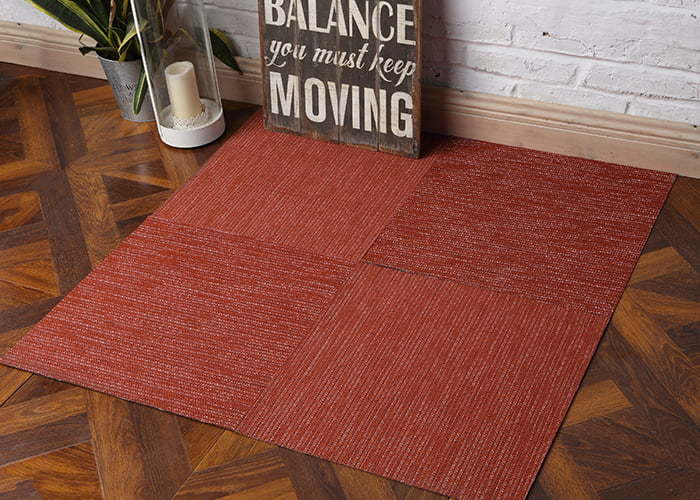 Red High Quality Indoor Vinyl Woven Floor Mats-16
| | |
| --- | --- |
| Location: | China |
| Business Type: | Manufacturer, Exporter |
| Brands: | OEM |
| Certificate: | BSCI |
| Model: | None |
| Payment and delivery terms: | T/T, 30% deposit, the balance sees the bill of lading COPY |
| Minimum order quantity: | Minimum order quantity: |
| Price: | Consulting Service |
| Packing details: | according to customer requirements |
| Delivery time: | 45 days |
Red High Quality Indoor Vinyl Woven Floor Mats-16 Knowledge Expansion
What Differentiates Red High Quality Indoor Vinyl Woven Floor Mats in the Flooring Industry?
In the dynamic and competitive world of flooring solutions, the emergence of specialized products has sparked interest and demand from various consumer segments. One such product is the red high-quality indoor vinyl woven floor mat. These mats have gained attention due to their unique attributes and benefits, carving a niche for themselves in the flooring industry.
Material Innovation and Durability: The key factor that distinguishes red high-quality indoor vinyl woven floor mats is their material composition. Traditional mats often use materials like rubber, fabric, or foam. However, the utilization of vinyl in a woven design imparts exceptional durability and longevity to these mats. Vinyl is known for its resistance to moisture, chemicals, and abrasion, making these mats ideal for high-traffic areas or places prone to spills. The woven structure further enhances their strength, enabling them to withstand heavy foot traffic without showing signs of wear and tear. Consequently, consumers benefit from a long-lasting investment that doesn't compromise on aesthetics or performance.
Vibrant Aesthetics and Customization: The red coloration of these mats adds a vibrant and eye-catching dimension to their appeal. Flooring aesthetics play a pivotal role in interior design, and these mats offer an opportunity to introduce a bold and striking element to any space. The availability of different shades of red allows for customization to match or contrast with existing décor, catering to diverse design preferences. In an industry where aesthetics greatly influence purchasing decisions, these mats stand out for their ability to merge functionality with style.
Maintenance and Hygiene: Another pivotal aspect that sets red high-quality indoor vinyl woven floor mats apart is their ease of maintenance and hygienic properties. The vinyl material is inherently resistant to staining, and its smooth surface can be effortlessly wiped clean. This makes the mats particularly suitable for spaces where cleanliness is paramount, such as kitchens, healthcare facilities, or daycare centers. Additionally, their moisture resistance prevents the growth of mold or mildew, contributing to a healthier indoor environment.
Safety and Comfort: While durability and aesthetics are key differentiators, the safety and comfort these mats offer also contribute to their appeal. The vinyl woven construction provides a non-slip surface, reducing the risk of accidents in both residential and commercial settings. Furthermore, the woven texture adds a layer of comfort underfoot, making prolonged standing or walking more comfortable. This factor is especially relevant for workplaces where employees spend extended periods on their feet, such as retail environments or industrial settings.
Environmental Considerations: In a world increasingly concerned about environmental impact, the use of vinyl might raise questions. However, modern vinyl manufacturing processes have evolved to be more environmentally friendly, minimizing the release of harmful chemicals. Additionally, the longevity and durability of these mats translate to reduced waste over time, as they don't need frequent replacements like traditional mats. As the industry continues to prioritize sustainability, the choice of materials and their impact on the environment is a noteworthy consideration.
red high-quality indoor vinyl woven floor mats stand out in the flooring industry due to their unique combination of material innovation, durability, vibrant aesthetics, customization options, easy maintenance, hygiene benefits, safety features, comfort, and evolving environmental consciousness. Their ability to cater to both functional and design needs makes them a compelling choice for residential and commercial spaces alike. As consumer expectations continue to evolve, products like these mats play a pivotal role in shaping the trajectory of the flooring industry.
How Do Red High Quality Indoor Vinyl Woven Floor Mats Contribute to Interior Design in Commercial Spaces?
In the realm of interior design for commercial spaces, every detail matters. From furniture selection to color schemes, every element contributes to creating a cohesive and inviting environment. Among these elements, flooring plays a vital role in setting the tone and ambiance of a space. Red high-quality indoor vinyl woven floor mats have emerged as a versatile and impactful choice for interior designers seeking to enhance the aesthetics and functionality of commercial spaces.
Bold Aesthetics and Visual Accents: The introduction of red high-quality indoor vinyl woven floor mats brings a bold and vibrant aesthetic to commercial spaces. The red color, often associated with energy, passion, and warmth, instantly grabs attention and adds a dynamic visual element. In areas with neutral or monochromatic color schemes, these mats act as powerful accents, injecting personality and flair into the surroundings. They can be strategically placed in key areas, such as entrances, waiting areas, or hallways, to create focal points and guide the flow of foot traffic.
Branding and Identity Reinforcement: Many businesses strive to create a distinct brand identity that resonates with their target audience. Red high-quality indoor vinyl woven floor mats offer an opportunity to integrate branding elements seamlessly into the interior design. Customization options allow businesses to imprint logos, slogans, or brand colors onto the mats, effectively reinforcing the brand's presence and creating a cohesive visual identity throughout the space. This not only enhances brand recognition but also fosters a sense of professionalism and attention to detail.
Zoning and Space Definition: Large commercial spaces often require effective zoning to delineate different areas and functions. Red high-quality indoor vinyl woven floor mats can serve as practical tools for space division. By strategically placing mats of varying sizes and shapes, designers can visually separate waiting areas, workspaces, lounges, and circulation paths. This aids in creating a well-organized layout that maximizes space utilization and ensures a seamless flow of movement.
Acoustic Benefits and Comfort: Acoustic considerations are paramount in commercial settings, where noise levels can impact productivity and customer experience. These mats contribute to improved acoustics by absorbing sound and reducing reverberation. In busy areas like open offices, cafeterias, or collaborative spaces, the woven texture of the mats adds an extra layer of noise reduction. Additionally, the cushioning effect of the mats enhances comfort for individuals who stand for extended periods, such as employees in retail or hospitality environments.
Durability and Low Maintenance: Commercial spaces experience heavy foot traffic, making durability a critical factor in material selection. Red high-quality indoor vinyl woven floor mats are designed to withstand the demands of commercial use. Their moisture resistance, stain resistance, and easy-to-clean surface make them well-suited for spaces that require frequent maintenance due to spills or heavy use. This durability translates to a longer lifespan, reducing the need for frequent replacements and minimizing operational disruptions.
Versatility and Adaptability: From modern office spaces to trendy cafes and upscale boutiques, the design requirements of commercial spaces vary widely. The versatility of red high-quality indoor vinyl woven floor mats allows them to seamlessly integrate into diverse design styles. Whether the aim is to create a sophisticated ambiance or a casual, inviting atmosphere, these mats can be tailored to complement the desired aesthetic while retaining their functional benefits.
red high-quality indoor vinyl woven floor mats serve as a dynamic tool in the hands of interior designers working on commercial spaces. Their ability to enhance aesthetics, reinforce branding, define spaces, improve acoustics, offer comfort, withstand heavy use, and adapt to various design styles makes them a valuable addition to any commercial interior. As the demand for unique and impactful design solutions continues to grow, these mats prove their worth as a versatile asset in the toolkit of modern interior designers.