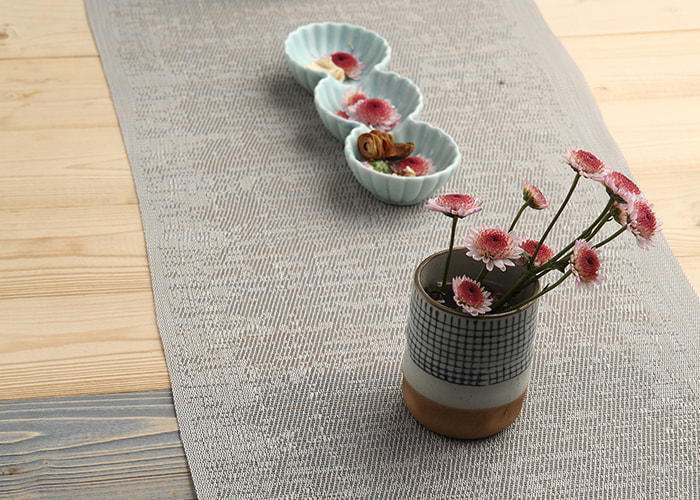 Home Solid Color Linen Table Runner(Grey)
| | |
| --- | --- |
| Location: | China |
| Business Type: | Manufacturer, Exporter |
| Brands: | OEM |
| Certificate: | BSCI |
| Model: | None |
| Payment and delivery terms: | T/T, 30% deposit, the balance sees the bill of lading COPY |
| Minimum order quantity: | Minimum order quantity: |
| Price: | Consulting Service |
| Packing details: | according to customer requirements |
| Delivery time: | 45 days |
Home Solid Color Linen Table Runner(Grey) Knowledge Expansion
How Does the Utilization of Home Solid Color Linen Table Runners Contribute to Contemporary Interior Design Aesthetics and What Impact Does It Have on Consumer Preferences?
1. Aesthetic Versatility:
Home Solid Color Linen Table Runners provide a canvas for a wide range of interior design aesthetics. Whether the style is minimalistic, rustic, bohemian, or modern, the simplicity and understated elegance of solid color linen runners effortlessly complement diverse design themes. The runners' clean lines and muted colors create a neutral backdrop that allows other decor elements to shine.
2. Texture and Depth:
Linen's natural texture adds depth and visual interest to interior spaces. The tactile quality of linen table runners introduces an element of tactility that contrasts with other surfaces like glass, wood, or metal. This interplay of textures contributes to a multi-dimensional and layered design, enhancing the overall visual appeal of the room.
3. Color Harmony and Contrast:
The concept of using solid color linen runners allows designers and homeowners to experiment with color schemes. The subdued and earthy tones of linen harmonize with various color palettes, offering an opportunity to create a cohesive and balanced ambiance. Additionally, contrasting the runner's color with the table or surrounding decor elements can create striking focal points.
4. Easy Styling and Seasonal Changes:
Home Solid Color Linen Table Runners are versatile styling accessories that can be easily swapped out to reflect different seasons or occasions. Designers can play with various color options to evoke different moods throughout the year, adapting the decor to holidays, changing weather, or special events.
5. Sustainability and Eco-Friendliness:
Consumer preferences are increasingly leaning towards sustainable and eco-friendly products. Linen, as a natural fiber, aligns with these values. Home Solid Color Linen Table Runners provide an eco-conscious alternative to synthetic materials, appealing to consumers who prioritize environmentally responsible choices.
6. Effortless Elegance:
Linen's inherent elegance and timelessness resonate with those seeking a refined yet unpretentious home decor. The clean and uncomplicated aesthetic of linen runners contributes to an atmosphere of effortless elegance, elevating the overall look of a space without appearing overly formal.
7. Consumer Personalization:
Consumer preferences are evolving towards personalized and curated living spaces. Home Solid Color Linen Table Runners can be chosen to reflect individual tastes, allowing homeowners to express their personality through decor. The availability of a range of colors enables consumers to find the perfect match for their unique interior design vision.
8. Emotional Connection:
Home decor is deeply tied to emotions and well-being. The presence of a carefully selected linen table runner can evoke feelings of comfort, warmth, and coziness. This emotional connection contributes to a sense of home and belonging.
How Has the Introduction of Home Solid Color Linen Table Runners Redefined the Table Linen Market, and What Factors Contribute to Their Sustained Popularity and Diverse Application in Modern Interiors?
1. Evolution of Table Linen Aesthetics:
Home Solid Color Linen Table Runners have ushered in a new era of table linen aesthetics. While traditional tablecloths remain relevant, these runners offer a refreshing departure from elaborate patterns and designs. Their simple yet elegant appearance resonates with the modern design philosophy of minimalism and understated sophistication.
2. Versatile Design Adaptability:
One of the defining features of Home Solid Color Linen Table Runners is their ability to adapt to a wide array of design styles. Whether used in rustic, contemporary, or even eclectic settings, these runners seamlessly blend with the existing decor, acting as a unifying element that ties the room's design elements together.
3. Creation of Focal Points:
Linen runners in solid colors have the remarkable ability to serve as focal points within a space. Against a neutral backdrop, a pop of color from the runner draws attention and becomes a conversation piece. Designers often strategically place these runners to create visual interest and guide the eye to specific areas.
4. Subdued Elegance and Texture:
Linen's inherent texture adds depth to table settings and interiors. The tactile quality of the fabric contributes to a sense of warmth and comfort, enhancing the overall ambiance. This texture is further accentuated by the use of solid colors, which allow the fabric's unique characteristics to shine.
5. Seamless Seasonal Transitions:
Home Solid Color Linen Table Runners offer a practical solution for seasonal decor changes. By selecting different colored runners, homeowners can effortlessly transition their interiors to match various seasons or festivities. This adaptability reduces the need for extensive decor overhauls, making them a convenient and cost-effective choice.
6. Environmental Consciousness:
The sustained popularity of Home Solid Color Linen Table Runners is also linked to the growing trend of environmentally conscious consumer behavior. Linen is a natural and renewable resource, aligning with the preferences of eco-conscious individuals who seek sustainable and ethical products for their homes.
7. Personalization and Customization:
In an era of individual expression, these runners provide a canvas for personalization. Homeowners can choose colors that resonate with their tastes and interior design vision, allowing them to curate spaces that reflect their unique personality.
8. Timeless Appeal and Longevity:
The enduring popularity of linen stems from its timeless appeal and durability. Linen is known for its longevity, making Home Solid Color Linen Table Runners a practical investment. Unlike trendy items that may lose relevance, these runners continue to complement evolving design aesthetics.