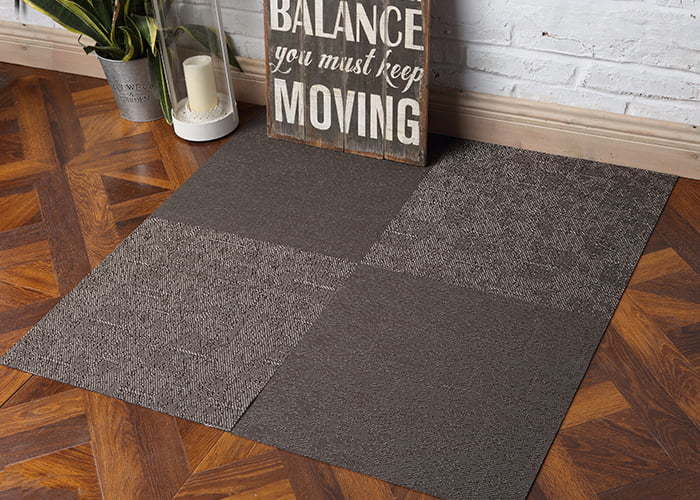 Non Slip Hard Wearing Woven Floor Mats-18
| | |
| --- | --- |
| Location: | China |
| Business Type: | Manufacturer, Exporter |
| Brands: | OEM |
| Certificate: | BSCI |
| Model: | None |
| Payment and delivery terms: | T/T, 30% deposit, the balance sees the bill of lading COPY |
| Minimum order quantity: | Minimum order quantity: |
| Price: | Consulting Service |
| Packing details: | according to customer requirements |
| Delivery time: | 45 days |
Non Slip Hard Wearing Woven Floor Mats-18 Knowledge Expansion
What Advantages Do Non-Slip Hard-Wearing Woven Floor Mats Offer in the Flooring Industry?
In the ever-evolving world of flooring solutions, the demand for practicality and safety remains a constant priority. Non-slip hard-wearing woven floor mats have emerged as a remarkable solution that addresses these concerns while offering a range of additional advantages.
Enhanced Safety: One of the most significant advantages of non-slip hard-wearing woven floor mats is their contribution to safety. Slip and fall accidents are a prevalent concern, especially in areas with high foot traffic, moisture, or spills. These mats are designed with specialized textures and patterns that enhance traction, reducing the risk of slips and falls. Whether in commercial spaces, healthcare facilities, or residential settings, these mats create a secure walking surface that promotes safety for occupants.
Durability and Longevity: The term "hard-wearing" speaks volumes about the resilience of these mats. Traditional mats often succumb to wear and tear in high-traffic environments, requiring frequent replacements. Non-slip hard-wearing woven floor mats are crafted from robust materials and constructed with reinforced weaving techniques, making them exceptionally durable. Their ability to withstand heavy foot traffic, impacts, and abrasions ensures a longer lifespan, translating to cost savings for both residential and commercial users.
Easy Maintenance: Maintaining the cleanliness and appearance of flooring is a constant challenge. Non-slip hard-wearing woven floor mats, however, simplify this task. The woven design not only aids in preventing dirt and debris from being tracked around but also makes cleaning a breeze. A simple shake or vacuum is often sufficient to remove loose particles. In the case of spills or stains, the mats can be wiped down or even machine-washed, ensuring they continue to look pristine without requiring intensive maintenance efforts.
Versatility in Design and Application: These mats prove that functionality doesn't have to compromise design aesthetics. They come in a variety of styles, colors, and patterns, allowing them to seamlessly integrate into different interior design schemes. From minimalist office spaces to cozy living rooms and industrial settings, these mats can be tailored to suit various environments. Their versatility extends to application areas as well, ranging from entranceways and hallways to kitchens, workshops, and even outdoor spaces.
Sound Dampening: Noise reduction is a key consideration in both residential and commercial environments. Non-slip hard-wearing woven floor mats contribute to acoustic comfort by absorbing and dampening sound. This is especially valuable in open office layouts, busy retail spaces, and areas where minimizing noise is essential for concentration, productivity, or customer experience.
Eco-Friendly Options: The growing emphasis on sustainability has spurred the development of eco-friendly flooring solutions. Non-slip hard-wearing woven floor mats align with this trend, as many manufacturers now offer options crafted from recycled materials or sustainable fibers. By choosing these mats, consumers contribute to reducing their environmental footprint while still benefiting from the mats' practical features.
Customization Possibilities: Personalization is a key aspect of modern consumer preferences. Many manufacturers offer customization options, allowing users to add logos, messages, or decorative elements to the mats. This is particularly relevant in commercial settings where branding and individuality are important. Customized mats not only fulfill practical purposes but also serve as an extension of the brand identity.
non-slip hard-wearing woven floor mats offer a plethora of advantages that resonate with various segments of the flooring industry. Their combination of safety, durability, easy maintenance, design versatility, acoustic benefits, eco-friendliness, and customization options positions them as a sought-after choice for both residential and commercial spaces. As the industry continues to innovate, these mats stand as a testament to the power of functional design solutions that prioritize the well-being and satisfaction of users.
How Do Non-Slip Hard-Wearing Woven Floor Mats Contribute to Workplace Safety and Efficiency?
In the realm of workplace environments, safety and efficiency are paramount concerns. The choice of flooring solutions can significantly impact both aspects. Non-slip hard-wearing woven floor mats have garnered attention as a versatile solution that addresses these concerns while offering a range of other benefits.
Preventing Accidents: Workplace accidents, particularly slips and falls, pose serious threats to both employees and employers. These incidents can result in injuries, medical expenses, and even legal liabilities. Non-slip hard-wearing woven floor mats are engineered with specialized textures and materials that enhance traction, reducing the risk of accidents caused by slippery surfaces. By providing a secure and stable walking surface, these mats play a crucial role in mitigating workplace hazards.
Creating Clearly Defined Walkways: Efficient movement within a workplace is essential for productivity. In industrial settings, warehouses, and large office spaces, clearly defined walkways guide the flow of foot traffic, prevent congestion, and ensure a smooth operational process. Non-slip hard-wearing woven floor mats can be strategically placed to delineate these walkways. Their durability withstands the wear and tear of constant movement, making them a reliable tool for maintaining organized pathways.
Enhancing Ergonomics: Many workplaces require employees to stand for extended periods, leading to fatigue and discomfort. Non-slip hard-wearing woven floor mats offer an ergonomic solution by providing cushioning and support underfoot. This not only increases comfort but also reduces strain on muscles and joints. In settings such as retail counters, kitchens, and manufacturing lines, these mats contribute to a healthier and more comfortable work environment, ultimately boosting productivity.
Minimizing Noise Disturbances: Noise levels can significantly impact the work atmosphere. In bustling workplaces, such as call centers, open offices, or manufacturing floors, excess noise can hamper concentration and communication. Non-slip hard-wearing woven floor mats possess sound-absorbing properties that help dampen noise, creating a quieter environment. This leads to improved focus, clearer communication, and a more conducive workspace for tasks that demand concentration.
Reducing Maintenance Efforts: Maintaining cleanliness in a busy workplace can be challenging. However, the woven design of these mats traps dirt and debris effectively, preventing them from being spread throughout the area. This translates to reduced cleaning efforts and less frequent maintenance. Spills or stains can be easily addressed with basic cleaning methods, ensuring the mats remain in optimal condition without interrupting workflow.
Durability for High-Traffic Areas: High-traffic areas in workplaces are prone to wear and tear. Traditional flooring materials can deteriorate quickly under constant use, necessitating frequent replacements. Non-slip hard-wearing woven floor mats, on the other hand, are designed to withstand the demands of high-traffic environments. Their rugged construction and robust materials make them a cost-effective option in the long run, as they require fewer replacements and maintenance expenses.
Promoting Brand Identity: In corporate environments, branding and aesthetics are integral components of workplace design. Many manufacturers offer customization options for these mats, allowing businesses to incorporate logos, slogans, or specific color schemes. This not only reinforces the brand identity but also adds a personalized touch to the workplace. Customized mats contribute to a cohesive and visually appealing atmosphere that aligns with the company's image.
non-slip hard-wearing woven floor mats offer a comprehensive set of advantages that directly impact workplace safety and efficiency. Their ability to prevent accidents, define pathways, enhance ergonomics, minimize noise, reduce maintenance efforts, withstand high traffic, and promote branding makes them an invaluable asset in various industries. As workplaces continue to prioritize the well-being of employees and operational effectiveness, these mats emerge as a practical and strategic choice for achieving these goals.