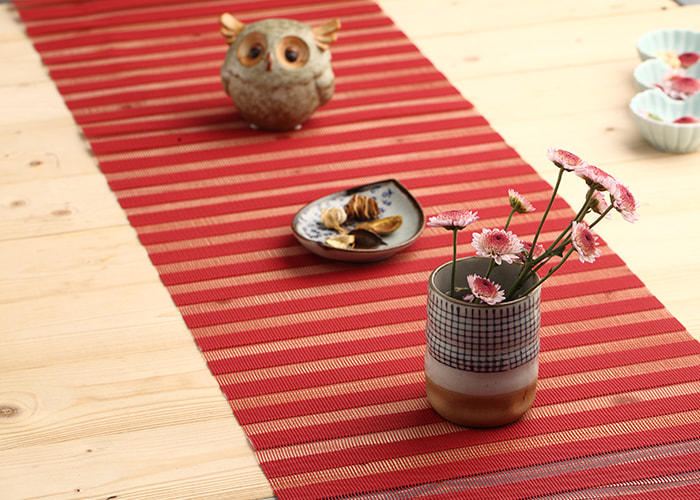 Red Striped Mesh Table Runner
| | |
| --- | --- |
| Location: | China |
| Business Type: | Manufacturer, Exporter |
| Brands: | OEM |
| Certificate: | BSCI |
| Model: | None |
| Payment and delivery terms: | T/T, 30% deposit, the balance sees the bill of lading COPY |
| Minimum order quantity: | Minimum order quantity: |
| Price: | Consulting Service |
| Packing details: | according to customer requirements |
| Delivery time: | 45 days |
Red Striped Mesh Table Runner Knowledge Expansion
How Does the Integration of a Red Striped Mesh Table Runner Bring a Contemporary Twist to Table Setting Decor, and What Role Does It Play in Elevating Aesthetic Appeal and Creating Memorable Dining Experiences?
1. Vibrant Visual Impact:
The boldness of red stripes against the translucent backdrop of mesh creates an immediate visual impact. Red is a color that conveys energy, passion, and vibrancy. When applied through stripes on a mesh runner, it adds a layer of excitement to the dining setting, catching the eye and setting the tone for a dynamic experience.
2. Textural Play:
Mesh table runners introduce a new dimension of texture to tablescapes. The juxtaposition of the lightweight and airy mesh with the vibrant stripes creates an intriguing contrast. This interplay of textures adds depth and visual interest to the table setting, making it more engaging and multi-dimensional.
3. Contemporary Sophistication:
Red Striped Mesh Table Runners bridge the gap between traditional and modern aesthetics. The use of stripes offers a timeless pattern, while the choice of mesh material infuses a contemporary touch. This balance between classic and modern design elements creates a sophisticated and up-to-date ambiance.
4. Flexibility in Styling:
Mesh runners are remarkably versatile in terms of styling. They can be placed directly on a tablecloth for added texture or laid directly on the table for a unique look. Additionally, the semi-transparent nature of mesh allows for creative layering with various colored tablecloths, further enhancing the visual depth.
5. Enhanced Dining Experiences:
Aesthetics greatly influence our perception of taste and enjoyment. The presence of a Red Striped Mesh Table Runner adds a layer of visual excitement to the dining experience. Whether it's a casual brunch or an elegant dinner party, the runner sets a lively and celebratory atmosphere, making the meal feel more special.
6. Conversation Starter:
The uniqueness of a Red Striped Mesh Table Runner prompts conversation and connection among guests. Its unconventional design serves as a conversation starter, helping to break the ice and engage guests in discussions about decor and design.
7. Event Customization:
The versatility of mesh runners allows for easy customization of event decor. For themed gatherings or seasonal celebrations, the color and pattern of the mesh runner can be adjusted to align with the event's concept, enhancing the overall thematic experience.
8. Photogenic Appeal:
In the age of social media, aesthetics play a pivotal role in influencing consumer choices. A visually striking table setting featuring a Red Striped Mesh Table Runner is likely to be shared on platforms like Instagram, Pinterest, and more. This photogenic appeal not only elevates personal dining experiences but also enhances the reach of event or restaurant promotion.
How Does the Utilization of a Red Striped Mesh Table Runner in Event Design Contribute to a Dynamic Atmosphere and Create Unforgettable Experiences, and What Innovative Approaches Are Event Planners Taking to Incorporate This Trend?
1. Energetic Visual Impact:
The use of red stripes on a mesh table runner instantly creates a burst of energy and excitement in event settings. The vibrant red color is attention-grabbing and sets a lively tone, making the atmosphere feel vibrant and celebratory from the moment guests enter the space.
2. Texture and Depth:
Mesh table runners introduce an intriguing textural element that adds depth and visual interest to event decor. The combination of the lightweight mesh and the bold stripes creates a visually captivating contrast that engages the senses and enhances the overall ambiance.
3. Focal Points and Accents:
Event planners leverage the visual appeal of a Red Striped Mesh Table Runner to create focal points and accents within the space. Whether it's adorning the main dining table, cocktail stations, or buffet tables, the runner serves as a captivating centerpiece that draws guests' attention and becomes a talking point.
4. Dynamic Theme Enhancements:
Event themes can be amplified by incorporating mesh table runners with red stripes. From carnival-inspired events to modern galas, the energetic and contemporary aesthetic of the runner complements a variety of themes, enhancing the overall coherence of the event design.
5. Photogenic Moments:
In the age of social media, event aesthetics play a significant role in guest experience. A Red Striped Mesh Table Runner not only adds to the visual appeal of the event but also creates photogenic moments that attendees are eager to capture and share on their social platforms.
6. Versatile Styling:
Event planners embrace the versatility of mesh table runners in styling. They can be used as standalone table accents or layered over tablecloths to create different visual effects. This adaptability allows event planners to tailor the runner's appearance to suit various event concepts.
7. Interactive Elements:
Innovative event planners are using Red Striped Mesh Table Runners to introduce interactive elements. For example, they might incorporate LED lighting underneath the mesh to create dynamic color-changing effects, adding a futuristic touch to the event design.
8. Artistic Installations:
Event planners are thinking outside the box by using mesh table runners as artistic installations. They might suspend the runners from the ceiling to create striking hanging displays or incorporate them into backdrops for stage setups, elevating the overall visual impact of the event.