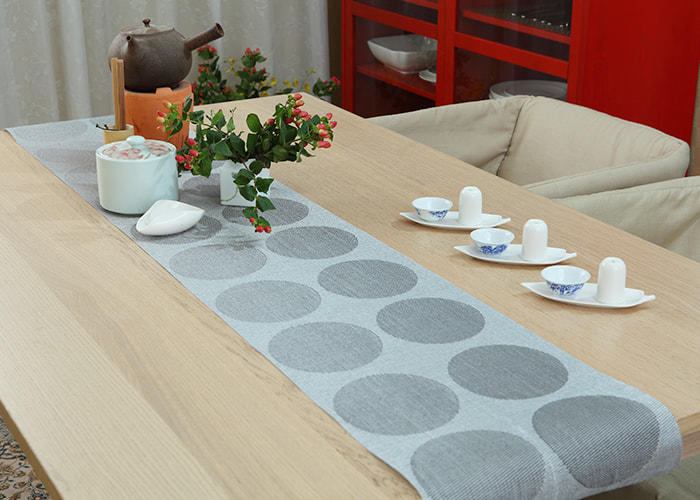 Waterproof Plastic PVC Rectangular Table Runner
| | |
| --- | --- |
| Location: | China |
| Business Type: | Manufacturer, Exporter |
| Brands: | OEM |
| Certificate: | BSCI |
| Model: | None |
| Payment and delivery terms: | T/T, 30% deposit, the balance sees the bill of lading COPY |
| Minimum order quantity: | Minimum order quantity: |
| Price: | Consulting Service |
| Packing details: | according to customer requirements |
| Delivery time: | 45 days |
Waterproof Plastic PVC Rectangular Table Runner Knowledge Expansion
What are the advantages of using a Waterproof Plastic PVC Rectangular Table Runner in the hospitality industry?
1. Water and Stain Resistance: One of the standout features of Waterproof Plastic PVC Rectangular Table Runners is their exceptional water and stain resistance. In hospitality settings such as restaurants, hotels, and event venues, spills and stains are inevitable. With these runners, worries about liquid damage are mitigated, as the waterproof PVC material prevents liquids from seeping through and causing damage to the table surface. This leads to a cleaner and more presentable dining environment.
2. Durability: The hospitality industry demands products that can withstand frequent use and cleaning. Waterproof Plastic PVC Table Runners are engineered to be durable and long-lasting. The PVC material is resistant to wear and tear, ensuring that these runners maintain their aesthetic appeal over time even in high-traffic settings.
3. Easy Maintenance: Maintaining a pristine dining area is crucial in the hospitality industry. These table runners simplify maintenance routines significantly. They can be effortlessly wiped clean with a damp cloth or disinfected with mild cleaning agents, saving time and effort for staff members. The ability to quickly clean and sanitize these runners between guest turnovers contributes to efficient operations.
4. Customization: Hospitality businesses thrive on creating unique and memorable experiences. Waterproof Plastic PVC Rectangular Table Runners are available in a wide array of colors, patterns, and designs. This enables establishments to align the aesthetics of their dining spaces with their brand identity or theme, enhancing the overall ambiance and guest experience.
5. Cost-Effective: While exuding a sophisticated appearance, these table runners are cost-effective alternatives to traditional fabric runners. They eliminate the need for constant replacement due to stains or wear, leading to cost savings in the long run. Additionally, their easy maintenance reduces the need for specialized cleaning services.
6. Eco-Friendly Considerations: Many PVC table runners are manufactured with an increasing focus on environmental sustainability. Some are produced using eco-friendly materials and manufacturing processes that minimize their impact on the environment. This resonates with the growing trend of eco-conscious dining and hospitality practices.
7. Versatility: Waterproof Plastic PVC Rectangular Table Runners aren't limited to indoor use. They can be utilized outdoors as well, making them versatile options for establishments with both indoor and outdoor dining spaces. Their weather-resistant properties ensure they can withstand various outdoor conditions without deteriorating.
How does the choice of Waterproof Plastic PVC Rectangular Table Runners impact event planning businesses in terms of aesthetics, practicality, and cost-effectiveness?
Aesthetics:
Event planners are tasked with creating visually appealing settings that align with the theme and purpose of each event. Waterproof Plastic PVC Rectangular Table Runners offer a versatile canvas for creativity. They are available in an extensive range of colors, patterns, and designs, allowing event planners to match the decor to the event's theme. Whether it's a formal corporate event or a lively birthday party, these runners can be customized to enhance the overall aesthetic appeal of the tablescape. Additionally, their glossy finish adds a touch of elegance that can elevate the entire event atmosphere.
Practicality:
In the fast-paced world of event planning, practicality and efficiency are crucial. Waterproof Plastic PVC Rectangular Table Runners shine in this regard. Their waterproof and stain-resistant properties are particularly advantageous in event settings where spills are common. Event planners can rest easy knowing that accidental spills and stains won't mar the appearance of the tables or require constant maintenance during the event. The runners can be quickly wiped clean, ensuring a seamless experience for both guests and organizers.
these runners are lightweight and easy to handle, simplifying the setup and teardown process for event planners and their teams. Their durability ensures they can withstand the rigors of event setup, usage, and takedown without showing signs of wear and tear, making them a practical choice for events of varying scales.
Cost-Effectiveness:
Event planning businesses often need to strike a balance between offering high-quality experiences and managing costs. Waterproof Plastic PVC Rectangular Table Runners provide a cost-effective solution. Traditional fabric runners require frequent cleaning and replacements due to stains and wear, which can add up to substantial expenses over time. In contrast, PVC runners eliminate the need for costly maintenance and replacements, resulting in long-term cost savings. The initial investment in these runners proves to be economical in the long run, making them a wise choice for event planners seeking cost-effective solutions without compromising on quality.
Versatility:
Event planners frequently organize events in a variety of venues, both indoor and outdoor. Waterproof Plastic PVC Rectangular Table Runners excel in versatility, as they can seamlessly transition from indoor banquet halls to outdoor garden parties. Their weather-resistant properties make them suitable for outdoor events, where exposure to the elements could otherwise damage traditional fabric runners. This adaptability ensures that event planners can rely on the same set of runners for diverse event settings, enhancing their operational efficiency.