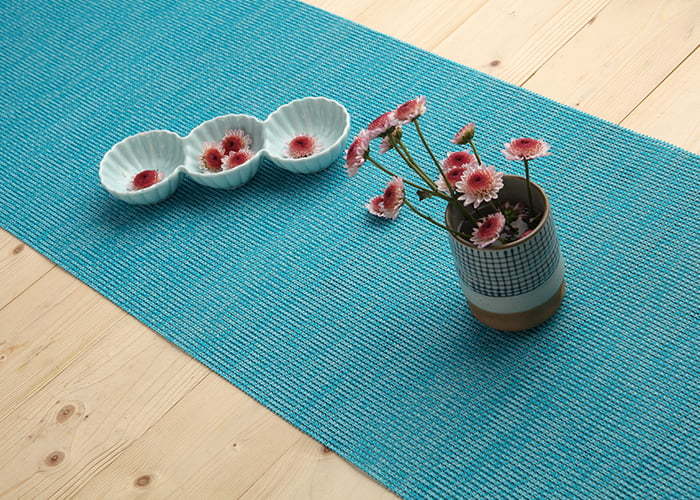 Blue Cotton Simple Table Runner
| | |
| --- | --- |
| Location: | China |
| Business Type: | Manufacturer, Exporter |
| Brands: | OEM |
| Certificate: | BSCI |
| Model: | None |
| Payment and delivery terms: | T/T, 30% deposit, the balance sees the bill of lading COPY |
| Minimum order quantity: | Minimum order quantity: |
| Price: | Consulting Service |
| Packing details: | according to customer requirements |
| Delivery time: | 45 days |
Blue Cotton Simple Table Runner Knowledge Expansion
How has the global textile industry evolved in response to sustainability concerns, and what role does the Blue Cotton Simple Table Runner exemplify in this transformation?
Evolution of the Textile Industry:
Historically, the textile industry has been associated with resource-intensive practices, high water consumption, and pollution. However, as environmental awareness has grown, so has the recognition of the need for sustainable practices. This shift has led to the adoption of more eco-friendly materials, production methods, and distribution processes.
Sustainability Initiatives:
Numerous sustainability initiatives have emerged in the textile industry. These include the use of organic and recycled fibers, implementation of water-saving technologies, reduced energy consumption, and responsible waste management. Brands and manufacturers are increasingly incorporating circular economy principles, aiming to create products that have a longer lifespan and are recyclable or biodegradable.
Role of the Blue Cotton Simple Table Runner:
The Blue Cotton Simple Table Runner serves as an example of how sustainability principles can be integrated into product design and manufacturing. Crafted from organic cotton, it reflects the industry's shift toward using natural, renewable resources that have a lower environmental impact. Organic cotton is grown without synthetic pesticides or fertilizers, reducing harm to ecosystems and human health.
The table runner's "simple" design highlights another aspect of sustainability – minimalism. By favoring timeless designs over fleeting trends, products like this contribute to a more sustainable consumption pattern. This approach aligns with the growing interest in purchasing items that remain stylish beyond a single season, reducing the frequency of replacements.
Furthermore, the manufacturing process of the Blue Cotton Simple Table Runner likely emphasizes ethical and responsible practices. Sustainable manufacturing involves considerations such as fair labor practices, safe working conditions, and reduced carbon emissions. This broader perspective on sustainability ensures that the benefits extend not only to the environment but also to the well-being of those involved in production.
Consumer Awareness and Education:
The industry's shift toward sustainability is closely linked to increasing consumer awareness and education. As people become more informed about the environmental and social impacts of their choices, they demand products that align with their values. The Blue Cotton Simple Table Runner, in its simplicity and sustainability, appeals to this conscious consumer base.
The global textile industry's response to sustainability concerns has led to a profound transformation, characterized by the adoption of eco-friendly materials, production practices, and consumer choices. The Blue Cotton Simple Table Runner represents a tangible example of this evolution, showcasing how sustainable materials, minimalist design, ethical manufacturing, and consumer preferences are converging to create a more responsible and environmentally conscious industry. As this transformation continues, the industry will likely see further innovations that prioritize both aesthetics and ethics, ensuring a more sustainable future for all stakeholders involved.
How does the Blue Cotton Simple Table Runner exemplify the intersection of traditional craftsmanship and modern manufacturing techniques in the textiles and home decor industry?
Traditional Craftsmanship's Resurgence:
In recent years, there has been a notable resurgence of interest in traditional craftsmanship. Consumers are increasingly drawn to products that carry a sense of history, culture, and the human touch. The Blue Cotton Simple Table Runner nods to this trend by incorporating elements of traditional craftsmanship. Its design might reflect classic patterns or weaving techniques that have been passed down through generations, evoking a sense of nostalgia and authenticity.
Handwoven Aesthetics and Modern Techniques:
The Blue Cotton Simple Table Runner might blend the artistry of handwoven aesthetics with modern manufacturing techniques. While the runner's appearance might mimic the intricate weaves of traditional textiles, modern machinery could facilitate its creation. This union of old and new techniques showcases the industry's ability to preserve the visual appeal of traditional craftsmanship while optimizing production for efficiency and scale.
Quality and Consistency through Technology:
Modern manufacturing techniques, including advanced looms and automated processes, enable the creation of products like the Blue Cotton Simple Table Runner with unmatched precision and consistency. This is particularly important for achieving a high level of quality while meeting the demands of today's market. Consumers expect products to be not only visually appealing but also durable and well-crafted, and modern manufacturing plays a pivotal role in achieving this balance.
Innovation in Material Selection:
The Blue Cotton Simple Table Runner might incorporate innovative materials that seamlessly blend the past and present. While cotton is a timeless textile, advancements in material science might introduce variations that enhance its functionality. For instance, the cotton used could be treated with sustainable dyeing methods or given special finishes to improve stain resistance or longevity, all while maintaining the charm of traditional cotton textiles.
Customization and Personalization:
The intersection of traditional craftsmanship and modern techniques allows for greater customization and personalization. Consumers today value products that reflect their individuality, and this table runner could cater to that desire by offering options for color, pattern, or size that are easily achievable through modern manufacturing capabilities.
Cultural Heritage and Contemporary Design:
The Blue Cotton Simple Table Runner might draw inspiration from cultural heritage while adapting to contemporary design trends. This fusion captures the essence of traditional artistry while making it relevant in today's homes. This balancing act demonstrates the industry's awareness of the past and its commitment to creating products that align with current aesthetics and consumer preferences.
The Blue Cotton Simple Table Runner encapsulates the convergence of traditional craftsmanship and modern manufacturing techniques within the textiles and home decor industry. By seamlessly blending time-honored design principles with cutting-edge production methods, products like these celebrate the richness of heritage while responding to the demands of the present. This harmonious integration not only produces aesthetically pleasing items but also highlights the industry's adaptability, innovation, and commitment to delivering products that stand at the crossroads of tradition and progress.