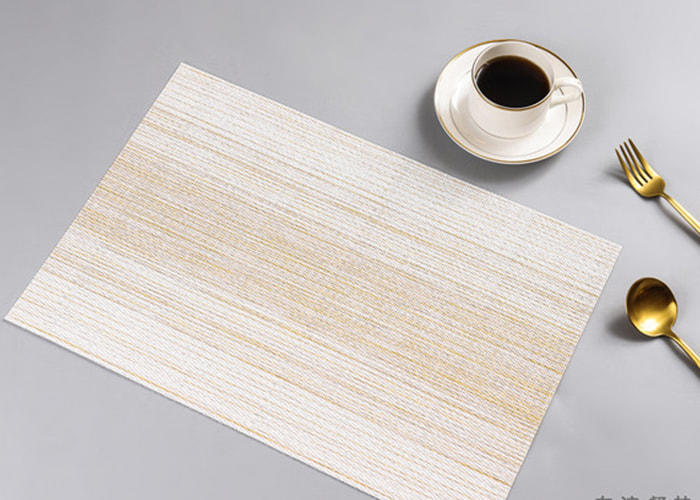 Rectangular Vinyl Placemats
| | |
| --- | --- |
| Location: | China |
| Business Type: | Manufacturer, Exporter |
| Brands: | OEM |
| Certificate: | BSCI |
| Model: | None |
| Payment and delivery terms: | T/T, 30% deposit, the balance sees the bill of lading COPY |
| Minimum order quantity: | Minimum order quantity: |
| Price: | Consulting Service |
| Packing details: | according to customer requirements |
| Delivery time: | 45 days |
Rectangular Vinyl Placemats Knowledge Expansion
What are the Advantages and Applications of Rectangular Vinyl Placemats in the Hospitality Industry?
Advantages of Rectangular Vinyl Placemats:
Durability: Rectangular vinyl placemats are highly durable, making them suitable for high-traffic environments such as restaurants, cafes, and hotels. They can withstand spills, stains, and regular cleaning without losing their quality or color.
Easy Maintenance: Vinyl placemats are easy to clean and maintain. They can be wiped clean with a damp cloth or washed with mild soap and water, saving time and effort for hospitality staff.
Variety of Designs: These placemats come in a wide range of designs, patterns, and colors, allowing businesses to match them with their overall interior decor and branding.
Cost-Effective: Compared to traditional fabric placemats, vinyl placemats offer a cost-effective solution. They have a longer lifespan, reducing the need for frequent replacements.
Non-Slip Surface: Many rectangular vinyl placemats have a non-slip surface, enhancing safety for both guests and staff, especially in fast-paced dining environments.
Applications of Rectangular Vinyl Placemats in the Hospitality Industry:
Restaurants and Cafes: Vinyl placemats are commonly used in restaurants and cafes to add a touch of sophistication to tables while protecting them from spills and stains. The ease of cleaning makes them ideal for establishments where quick turnovers are essential.
Hotels: In hotel dining areas, vinyl placemats provide an elegant dining experience for guests. Additionally, they can be used in room service to enhance the presentation of meals.
Event Venues: For banquet halls, event venues, and catering services, rectangular vinyl placemats can be a versatile choice. They can be customized to match different event themes and add a professional touch to tables.
Outdoor Dining: Vinyl placemats are also suitable for outdoor dining areas. Their weather-resistant nature makes them a practical option for al fresco settings.
Cruise Ships and Airline Services: In the travel and hospitality sector, rectangular vinyl placemats find use on cruise ships and in airline services. Their durability and easy maintenance make them well-suited for these settings.
Theme Restaurants: Restaurants with specific themes can benefit from the wide variety of designs available in vinyl placemats. They can contribute to the immersive experience and overall theme of the establishment.
Catering Services: Whether for formal corporate events or casual gatherings, catering companies can use vinyl placemats to enhance the presentation of food and create a clean dining surface.
rectangular vinyl placemats have gained popularity in the hospitality industry due to their durability, ease of maintenance, design variety, and cost-effectiveness. Their applications range from restaurants and cafes to hotels, event venues, and even travel services. By offering both practicality and aesthetics, these placemats have become an essential element in creating inviting and functional dining spaces across various hospitality settings.
How Do Rectangular Vinyl Placemats Compare to Other Placemat Materials in Terms of Aesthetics, Durability, and Eco-Friendliness?
Aesthetics:
Rectangular vinyl placemats come in a plethora of designs, patterns, and colors, allowing for easy customization to match various interior styles. The visual appeal they bring to dining spaces is remarkable, elevating the overall ambiance of a restaurant or home setting. This contrasts with traditional fabric placemats, which might have limited design options and are more prone to fading over time.
Durability:
When it comes to durability, rectangular vinyl placemats excel. They are designed to withstand the rigors of busy restaurants, cafes, and even outdoor settings. The vinyl material is inherently resistant to spills, stains, and fading, ensuring a longer lifespan compared to materials like cloth or paper. This durability translates to cost savings in the long run, as fewer replacements are needed.
In contrast, fabric placemats, while providing a softer texture, are more susceptible to staining and wear and tear. They require regular washing and maintenance, which can be time-consuming, especially in high-traffic environments.
Eco-Friendliness:
The eco-friendliness of placemat materials is a growing concern. Rectangular vinyl placemats, unfortunately, fall short in this aspect. Vinyl is a synthetic material derived from petroleum, which raises concerns about its environmental impact and contribution to plastic waste. Although some efforts have been made to create more sustainable vinyl options, such as recycled vinyl, the overall eco-friendliness of vinyl placemats remains a topic of debate.
On the other hand, fabric placemats, especially those made from natural fibers like cotton or linen, are often considered more environmentally friendly. These materials are biodegradable and renewable, reducing their impact on the planet. However, it's worth noting that fabric placemats might require more frequent replacements due to their susceptibility to staining and fading, potentially offsetting some of their eco-friendly advantages.
In the realm of placemat materials, rectangular vinyl placemats stand out for their impressive aesthetics and remarkable durability. They offer a wide range of design options, making them suitable for various settings. However, their eco-friendliness is a point of concern due to the nature of the vinyl material.
When choosing between vinyl and fabric placemats, it's crucial to consider the specific needs of the establishment or home. If aesthetics and durability are top priorities, vinyl placemats might be the preferred choice. On the other hand, for those placing a strong emphasis on eco-friendliness, fabric placemats made from natural materials could be a more sustainable option. Ultimately, the decision depends on striking a balance between aesthetics, durability, and environmental considerations in line with individual preferences and values.