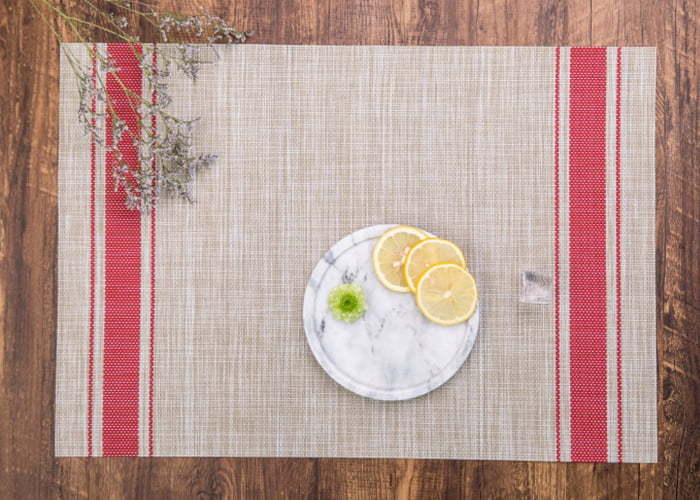 Plaid Placemats
| | |
| --- | --- |
| Location: | China |
| Business Type: | Manufacturer, Exporter |
| Brands: | OEM |
| Certificate: | BSCI |
| Model: | None |
| Payment and delivery terms: | T/T, 30% deposit, the balance sees the bill of lading COPY |
| Minimum order quantity: | Minimum order quantity: |
| Price: | Consulting Service |
| Packing details: | according to customer requirements |
| Delivery time: | 45 days |
Plaid Placemats Knowledge Expansion
How do Plaid Placemats contribute to the trend of rustic-chic dining aesthetics in restaurants, and what considerations should restaurant owners keep in mind while incorporating these placemats into their decor?
Contributing to Rustic-Chic Dining Aesthetics:
Rustic-chic dining aesthetics revolve around the harmonious blend of vintage charm and contemporary style. Plaid Placemats play a significant role in achieving this delicate balance. Here's how they contribute:
Nostalgic Elegance: Plaid patterns evoke feelings of nostalgia and traditional charm. Their rustic appeal harkens back to cozy cabins, countryside homes, and communal family gatherings. This sense of nostalgia creates an instant connection with diners and contributes to a welcoming and comfortable dining experience.
Texture and Layering: Rustic-chic aesthetics often involve layering textures to create depth and visual interest. Plaid Placemats introduce a tactile element to the dining setting, enhancing the overall sensory experience. When paired with rustic wooden tables, distressed finishes, and natural materials, placemats add another layer of texture that resonates with the rustic-chic theme.
Versatile Colors: Plaid patterns typically feature earthy tones and muted hues that align well with the rustic color palette. These colors create a cozy and inviting atmosphere, making guests feel at ease and immersed in the dining experience.
Aesthetic Balance: The interplay of rustic elements and contemporary design is crucial in rustic-chic aesthetics. Plaid Placemats bridge this gap by introducing a touch of tradition while maintaining a modern edge. This balance creates a visually engaging and cohesive dining environment.
Considerations for Incorporation:
While Plaid Placemats can significantly enhance the rustic-chic ambiance of a restaurant, certain considerations should guide their incorporation:
Theme Consistency: Plaid Placemats should align with the broader theme of the restaurant. Consider the overall color scheme, decor, and ambiance to ensure that the placemats seamlessly fit into the narrative.
Complementary Elements: To maximize the impact of Plaid Placemats, incorporate complementary elements such as rustic-inspired dinnerware, wooden accents, and soft lighting. These elements reinforce the rustic-chic aesthetic and create a harmonious visual ensemble.
Pattern Size: Plaid patterns vary in scale, from small checks to larger squares. Consider the scale of the pattern in relation to the size of the dining tables. Larger patterns can be impactful on larger tables, while smaller patterns might work better on smaller tables.
Maintenance: Placemats are prone to spills and stains. Choose Plaid Placemats that are easy to clean and maintain. Machine-washable or wipeable placemats can simplify the cleaning process for restaurant staff.
Rotation and Replacement: Regularly rotate and inspect placemats for wear and tear. Replace placemats that show signs of fading or damage to maintain a consistent and polished appearance.
Customization: Consider the option of custom Plaid Placemats that incorporate the restaurant's branding or logo. This adds a personal touch and strengthens the restaurant's identity.
Plaid Placemats have become an essential component of the rustic-chic dining trend in restaurants. Their ability to evoke nostalgia, introduce texture, and balance rustic and contemporary elements contributes to the overall ambiance of the dining space. Restaurant owners should consider factors such as theme consistency, complementary elements, pattern size, maintenance, and customization to successfully integrate Plaid Placemats into their decor, enhancing the overall dining experience for their guests.
How do Plaid Placemats bring a blend of classic style and contemporary flair to home dining experiences, and what advice can be offered to homeowners looking to incorporate these placemats seamlessly into their table decor?
Blending Classic Style and Contemporary Flair:
The appeal of Plaid Placemats lies in their ability to effortlessly merge classic style with contemporary flair, resulting in a table setting that is both sophisticated and welcoming:
Timeless Elegance: Plaid patterns have a rich history and are associated with a timeless elegance that transcends trends. The interplay of intersecting lines and colors in plaid designs adds an element of refinement to the table, harkening back to traditional aesthetics.
Modern Interpretation: Plaid Placemats often feature contemporary color combinations and sleek lines that infuse a modern touch into the classic design. This modern interpretation creates an interesting juxtaposition, making the placemats adaptable to various decor styles.
Versatility: Plaid patterns are inherently versatile, allowing them to seamlessly integrate into a range of dining themes. Whether it's a formal dinner party or a casual brunch, Plaid Placemats can be customized to match the tone of the event.
Texture and Depth: The textured nature of plaid patterns adds depth to the dining table, creating visual interest without overwhelming the space. This added layer of texture contributes to an immersive and engaging dining experience.
Advice for Seamlessly Incorporating Plaid Placemats:
To ensure a harmonious integration of Plaid Placemats into table decor, homeowners can consider the following strategies:
Color Harmony: Choose Plaid Placemats that complement the existing color scheme of the dining area. Harmonizing the colors of the placemats with the tableware, napkins, and overall decor creates a cohesive and inviting atmosphere.
Layering: Plaid Placemats work beautifully as a base layer for table settings. Layer them with solid-colored or textured tablecloths to add dimension and create an elegant backdrop for plates and utensils.
Contrasting Elements: Experiment with contrasting elements to highlight the beauty of Plaid Placemats. Consider using neutral-colored dinnerware and bold napkins that resonate with the placemat's color palette, enhancing the visual impact.
Seasonal Transitions: Plaid patterns are versatile enough to transition seamlessly through different seasons. Opt for placemats with colors that reflect the current season while maintaining the overall style of the dining area.
Centerpiece Considerations: When adding a centerpiece, ensure it complements the placemats rather than overpowering them. A well-chosen centerpiece can further enhance the overall aesthetic.
Setting the Tone: Plaid Placemats can set the tone for the entire dining experience. Whether it's a formal gathering or a relaxed brunch, the placemats can establish the ambiance and style right from the start.
Quality and Material: Invest in high-quality Plaid Placemats that are durable and easy to clean. Opt for materials that can withstand spills and frequent use, ensuring that the placemats maintain their appeal over time.