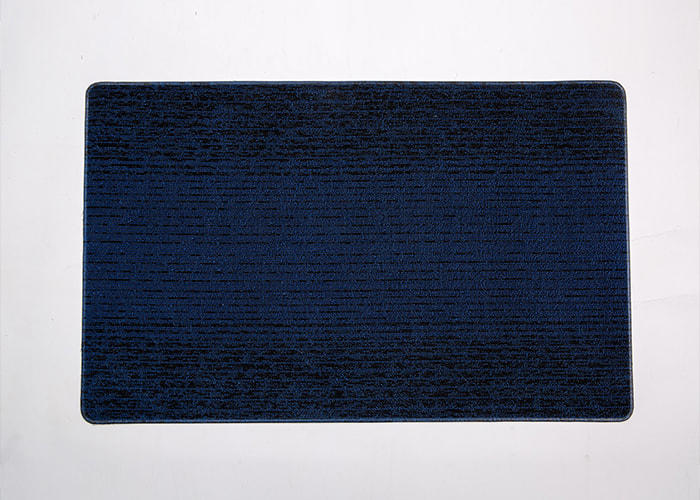 Modern and Concise Style Tufted Mat
| | |
| --- | --- |
| Location: | China |
| Business Type: | Manufacturer, Exporter |
| Brands: | OEM |
| Certificate: | BSCI |
| Model: | None |
| Payment and delivery terms: | T/T, 30% deposit, the balance sees the bill of lading COPY |
| Minimum order quantity: | Minimum order quantity: |
| Price: | Consulting Service |
| Packing details: | according to customer requirements |
| Delivery time: | 45 days |
Modern and Concise Style Tufted Mat Knowledge Expansion
How Does the Modern and Concise Style of Tufted Mats Impact Contemporary Interior Design Trends?
The world of interior design is marked by ever-evolving trends, and the choice of flooring solutions plays a pivotal role in shaping the overall aesthetic. Tufted mats, known for their modern and concise style, have become a notable addition to the design landscape.
Seamless Integration with Minimalism: The modern and concise style of tufted mats aligns perfectly with the minimalist design trend that continues to gain popularity. Minimalism emphasizes simplicity, clean lines, and a clutter-free environment. Tufted mats, with their sleek designs and straightforward patterns, seamlessly integrate with minimalist interiors, enhancing the overall aesthetic while maintaining an unobtrusive presence.
Textural Contrast and Depth: While minimalism celebrates simplicity, it also encourages the use of textural contrast to add depth to spaces. Tufted mats contribute to this aspect by introducing subtle texture through their tufted patterns. The interplay of light and shadow on these mats adds a layer of visual interest that complements other design elements, such as smooth surfaces and muted color palettes.
Versatility in Design Schemes: The modern and concise style of tufted mats transcends specific design categories, making them versatile choices for various interior styles. Whether applied in contemporary, Scandinavian, industrial, or even transitional settings, tufted mats enhance the space without overwhelming its design narrative. Their adaptability to different styles makes them a valuable asset for interior designers seeking versatility.
Elevated Visual Impact: In the realm of contemporary design, subtlety often speaks volumes. The modern and concise style of tufted mats offers a refined yet impactful visual presence. Instead of dominating the space, these mats elevate the design by adding an understated layer of sophistication. Their presence contributes to an overall sense of curated design and thoughtfulness.
Incorporating Geometric Elements: Geometric shapes are a hallmark of contemporary interior design. Tufted mats, with their often geometric or abstract patterns, provide a platform for incorporating these elements seamlessly. Whether it's hexagons, chevrons, or asymmetrical motifs, tufted mats infuse the space with geometric aesthetics that resonate with the contemporary design sensibility.
Color Cohesion and Coordination: The concise style of tufted mats lends itself well to color coordination. Whether the aim is to harmonize with existing décor or introduce subtle color accents, tufted mats can be chosen in colors that contribute to the overall color palette of the space. This cohesion enhances the sense of unity and design coherence.
Understated Elegance: The modern and concise style of tufted mats exudes an understated elegance that is highly sought after in contemporary design. Rather than relying on ornate details or elaborate patterns, these mats rely on their simplicity and quality materials to convey a sense of refinement that suits the refined tastes of today's homeowners.
the modern and concise style of tufted mats has a profound impact on contemporary interior design trends. Their ability to seamlessly integrate with minimalism, provide textural contrast, offer design versatility, elevate visual impact, incorporate geometric elements, contribute to color coordination, and exude understated elegance makes them a compelling choice for interior designers and homeowners alike. As the design landscape continues to evolve, tufted mats stand as a testament to the power of simplicity and thoughtfully curated design elements.
What Innovations Have Transformed the Furniture Industry's Approach to Comfort and Aesthetics?
The furniture industry is perpetually evolving, driven by the ever-changing preferences and lifestyles of consumers. A remarkable innovation that has revitalized the industry's approach to comfort and aesthetics is the tufted mat. This modern marvel, once primarily reserved for upholstered furniture, has transcended its traditional boundaries to emerge as a central element in interior design. Here's a closer look at how tufted mats have made their mark and why they are garnering significant attention.
The tufted mat's resurgence in the spotlight can be attributed to its fusion of practicality and allure. Historically associated with cushioned chairs and sofas, tufting involves the creation of patterns by threading through layers of fabric or cushioning. This technique is now meticulously applied to mats, resulting in an exquisite blend of texture and functionality. Whether it's a living room, bedroom, or office space, tufted mats bring a touch of luxury that enhances the overall ambiance.
One of the most striking advantages of tufted mats is their versatility in complementing various interior design styles. From minimalist to maximalist, the tufted pattern adds depth and character to any room. This adaptability stems from the vast array of materials, colors, and patterns available in tufted mats. Modern homeowners and designers can handpick mats that seamlessly integrate with existing furniture or serve as statement pieces, thereby redefining the very concept of a cohesive living space.
Comfort, a cornerstone of furniture design, finds an innovative ally in tufted mats. The meticulous construction creates a multi-dimensional surface that not only pleases the eye but also offers a tactile experience. The tufted design provides a cushioned effect, enhancing the sensation of softness underfoot. This comfort-focused aspect has propelled tufted mats beyond mere decorative elements, positioning them as functional accessories that contribute to the overall well-being of inhabitants.
the tufted mat's modern and concise style lends itself well to the evolving preferences of contemporary consumers. In an era where clean lines and uncluttered aesthetics hold sway, tufted mats embrace simplicity without sacrificing elegance. This balance of form and function resonates with individuals seeking to curate spaces that exude sophistication without overwhelming the senses.
the furniture industry's journey towards perfecting the marriage of comfort and aesthetics has been invigorated by the tufted mat's emergence. Through a fusion of traditional craftsmanship and contemporary design, tufted mats have transcended their origins to become essential components of modern interiors. Their adaptability, comfort-enhancing features, and compatibility with prevailing design trends have positioned them as pivotal pieces that elevate both the visual and tactile dimensions of living spaces. As the industry continues to evolve, the tufted mat stands as a testament to the power of innovation in reshaping our relationship with furniture and interior design.