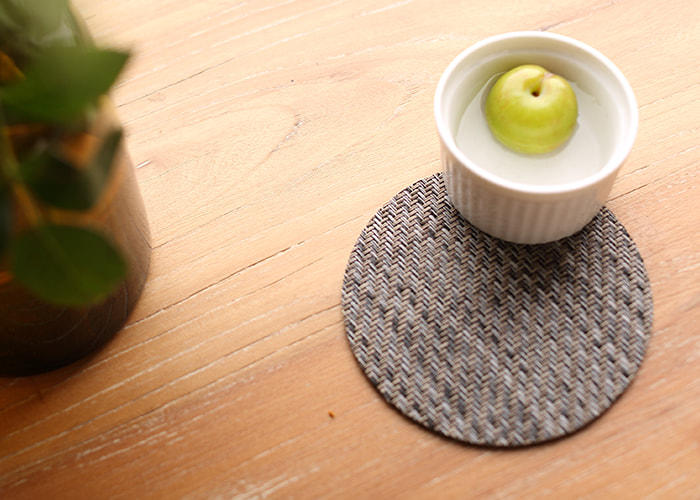 Round Heat Insulation Coaster-04
| | |
| --- | --- |
| Location: | China |
| Business Type: | Manufacturer, Exporter |
| Brands: | OEM |
| Certificate: | BSCI |
| Model: | None |
| Payment and delivery terms: | T/T, 30% deposit, the balance sees the bill of lading COPY |
| Minimum order quantity: | Minimum order quantity: |
| Price: | Consulting Service |
| Packing details: | according to customer requirements |
| Delivery time: | 45 days |
Round Heat Insulation Coaster-04 Knowledge Expansion
How does the Round Heat Insulation Coaster reflect the evolution of consumer needs and technological advancements in the kitchenware industry?
Shift in Consumer Needs:
Consumer needs in the kitchenware industry have shifted from mere functionality to a combination of utility, aesthetics, and convenience. The Round Heat Insulation Coaster addresses these evolving needs by serving as a multifunctional accessory. Beyond its primary function of protecting surfaces from heat damage, it adds an element of design to dining spaces while providing practicality by doubling as a pot holder or trivet.
Innovative Material Selection:
Technological advancements have enabled the use of innovative materials in kitchenware. The Round Heat Insulation Coaster might incorporate materials that offer enhanced heat resistance and durability, thanks to cutting-edge manufacturing processes. For instance, advanced silicone or heat-resistant polymers could be employed to ensure maximum protection against high temperatures while maintaining the coaster's aesthetic appeal.
Integration of Smart Features:
In an era of smart technology, kitchenware is not exempt from innovation. The Round Heat Insulation Coaster could integrate smart features, such as temperature sensors or indicators that change color to signify the heat level. This fusion of functionality and technology addresses the consumer need for user-friendly products that enhance safety and ease of use.
Aesthetic Considerations:
The Round Heat Insulation Coaster also reflects the industry's focus on aesthetics. Kitchenware is no longer solely utilitarian; it has become an extension of home decor. Coasters can be designed in a variety of colors, patterns, and textures to complement different kitchen styles. This shift acknowledges the consumer desire for products that are visually pleasing and capable of enhancing the overall dining experience.
Sustainable Manufacturing:
Modern consumers increasingly prioritize sustainability in their purchasing decisions. The Round Heat Insulation Coaster might be manufactured using eco-friendly materials and processes, aligning with the industry's push for reduced environmental impact. This aspect caters to conscious consumers who seek products that contribute to a more sustainable lifestyle.
Customization and Personalization:
Advances in manufacturing technology allow for greater customization and personalization. The Round Heat Insulation Coaster could be offered in various sizes to accommodate different cookware or personalized with names or designs. This level of customization caters to consumers who value products that cater to their individual preferences and needs.
Ease of Maintenance:
The evolution of the kitchenware industry involves making products more user-friendly. The Round Heat Insulation Coaster might feature easy-to-clean surfaces that resist stains and odors. This convenience-driven approach aligns with consumers' busy lifestyles and their preference for products that require minimal effort to maintain.
The Round Heat Insulation Coaster exemplifies how the kitchenware industry has evolved to address changing consumer needs and leverage technological advancements. By combining practical functionality, innovative materials, aesthetic considerations, and sustainability, this product showcases the industry's commitment to creating items that enhance the cooking and dining experience while adapting to modern lifestyles. As consumer preferences and technological capabilities continue to evolve, the kitchenware industry is likely to see further innovations that blend convenience, style, and practicality in exciting new ways.
How does the design and functionality of the Round Heat Insulation Coaster reflect the ongoing pursuit of safety and convenience in the culinary and dining industry?
Safety First:
Safety remains a paramount concern in the culinary world. The Round Heat Insulation Coaster directly addresses this by offering a protective barrier between hot cookware and delicate surfaces. Its heat insulation properties are designed to prevent burns and scorching, allowing users to handle hot pots and pans without worrying about damaging countertops or tabletops. This proactive approach aligns with the industry's overarching goal of reducing accidents and ensuring a secure culinary environment.
Practical and Multi-functional Design:
The Round Heat Insulation Coaster goes beyond its primary function to offer a versatile accessory that enhances convenience in the kitchen and dining areas. Its size and shape allow it to double as a pot holder, trivet, or even a small serving platter. This versatility streamlines meal preparation and presentation, reflecting the industry's effort to provide tools that adapt to various culinary needs while minimizing clutter in the kitchen.
User-Friendly Materials:
Modern kitchenware emphasizes the use of user-friendly materials that enhance both functionality and ease of use. The Round Heat Insulation Coaster might incorporate heat-resistant materials that are also lightweight and easy to clean. This consideration acknowledges the importance of creating products that are not only efficient but also practical for everyday use.
Sleek Aesthetics and Table Presentation:
The culinary and dining industry places increased importance on aesthetics and presentation. The Round Heat Insulation Coaster's design could incorporate sleek lines and stylish finishes that seamlessly integrate with various table settings. This reflects the industry's recognition that dining is not just about the food itself but also about creating memorable experiences through thoughtfully designed dining spaces.
Adaptation to Modern Lifestyles:
As lifestyles become busier, the industry strives to develop products that adapt to modern schedules and habits. The Round Heat Insulation Coaster's portability and multi-functionality cater to the dynamic nature of contemporary lifestyles. It allows users to effortlessly transition from cooking to serving and dining without the need for multiple accessories.
Innovation and Technological Integration:
Advancements in manufacturing and material science play a significant role in the culinary and dining industry. The Round Heat Insulation Coaster might incorporate cutting-edge heat-resistant materials that offer improved insulation while remaining visually appealing. This integration of innovation underscores the industry's commitment to leveraging technology for improved safety and functionality.
The Round Heat Insulation Coaster showcases the culinary and dining industry's dedication to enhancing safety and convenience through thoughtful design and innovative functionality. By offering protection against heat-related accidents, multi-functionality, user-friendly materials, and aesthetically pleasing designs, this product exemplifies how the industry is adapting to modern demands while prioritizing the well-being and experience of consumers. As the industry continues to evolve, it will likely produce more creative solutions that blend safety, convenience, and style to meet the ever-changing needs of culinary enthusiasts and dining aficionados.