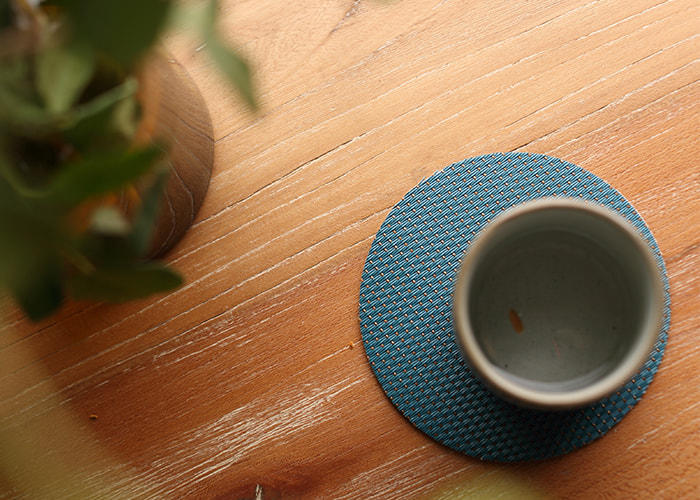 Heat and Stain Resistance COASTERS-06
| | |
| --- | --- |
| Location: | China |
| Business Type: | Manufacturer, Exporter |
| Brands: | OEM |
| Certificate: | BSCI |
| Model: | None |
| Payment and delivery terms: | T/T, 30% deposit, the balance sees the bill of lading COPY |
| Minimum order quantity: | Minimum order quantity: |
| Price: | Consulting Service |
| Packing details: | according to customer requirements |
| Delivery time: | 45 days |
Heat and Stain Resistance COASTERS-06 Knowledge Expansion
How Do Heat and Stain Resistance Coasters Enhance Furniture Protection and Aesthetics?
Furniture Protection: Shielding Surfaces from Heat and Stains
Heat and stain resistance coasters serve as a first line of defense against two common foes: heat damage and stubborn stains. When placed under hot mugs or cups, these coasters create a protective barrier that prevents direct contact between the heated container and the furniture surface. This prevents heat rings, discoloration, and potential warping caused by extreme temperatures.
these coasters act as a safeguard against spills and stains. Their impermeable surfaces ensure that liquids are contained within the coaster, preventing them from seeping onto the furniture and causing irreversible damage. This proactive approach to furniture protection can significantly extend the lifespan of beloved pieces, minimizing the need for costly repairs or replacements.
Aesthetic Enhancement: Fusion of Form and Function
While the primary purpose of heat and stain resistance coasters is functional, their impact on aesthetics is not to be underestimated. Coasters are available in a wide array of materials, designs, and colors, allowing homeowners to effortlessly match them with their existing decor. From sleek metallic finishes to intricate patterns, these coasters seamlessly blend with various interior styles, ranging from modern minimalism to classic elegance.
these coasters can be viewed as small yet impactful pieces of art that contribute to the overall visual appeal of a space. Their presence on coffee tables, dining tables, and countertops adds a layer of sophistication that elevates the entire room's design. The careful selection of coaster designs can tie together different elements within a space, creating a harmonious and well-thought-out interior.
Practical Versatility: Beyond Aesthetics and Protection
Heat and stain resistance coasters not only protect furniture and enhance aesthetics but also offer practical versatility. Their usefulness extends beyond the home setting. They are ideal for use in office environments, conference rooms, cafes, and restaurants, where they serve as functional accessories that prioritize cleanliness and professionalism.
the choice of materials used in these coasters often aligns with sustainability and eco-friendliness, reflecting a growing trend towards responsible consumer choices. Coasters made from natural materials or recycled sources resonate with environmentally conscious individuals who seek to minimize their carbon footprint.
heat and stain resistance coasters seamlessly blend function and aesthetics, making them essential additions to any space. By providing effective protection against heat damage and spills, they ensure the longevity of furniture while simultaneously enhancing the visual appeal of the surroundings. These versatile accessories have evolved from mere practical tools to design elements that reflect personal style and contribute to a well-curated interior. Whether in a cozy home setting or a professional environment, heat and stain resistance coasters play a crucial role in both preserving furniture and elevating the overall aesthetic experience.
How Do Heat and Stain Resistance Coasters Contribute to Sustainable Dining Experiences?
As consumer awareness of sustainability grows, industries are adapting to meet environmentally conscious demands. In the realm of dining, a significant shift has been observed towards sustainable practices. One aspect of this movement is the use of heat and stain resistance coasters. These coasters not only protect furniture but also play a vital role in creating sustainable dining experiences.
Reducing Single-Use Waste:
Traditional paper or disposable coasters have long been a staple in the dining industry. However, their single-use nature generates significant waste that harms the environment. Heat and stain resistance coasters offer an eco-friendly alternative by providing a durable and reusable solution. Crafted from materials like silicone, cork, or bamboo, these coasters can be used repeatedly, eliminating the need for constant disposal and reducing the strain on landfills.
Longevity and Durability:
One of the key tenets of sustainability is the promotion of durable products that have a longer lifespan. Heat and stain resistance coasters excel in this aspect. Built to withstand high temperatures, spills, and wear, they remain functional and attractive even after extended use. This longevity reduces the frequency of replacements, ultimately leading to fewer resources being consumed in the production of disposable alternatives.
Minimal Resource Consumption:
The production of disposable items requires continuous extraction of resources and energy. In contrast, heat and stain resistance coasters are manufactured with a focus on minimal resource consumption. Many of these coasters are made from sustainable materials that can be harvested or sourced without causing significant harm to the environment. This mindful sourcing contributes to the conservation of resources and minimizes the carbon footprint associated with their production.
Supporting Responsible Consumption:
Heat and stain resistance coasters align with the principles of responsible consumption and mindful consumerism. By investing in high-quality coasters that are designed to last, consumers make a conscious choice to prioritize durability over disposability. This shift in mindset encourages individuals to view their purchases as long-term investments, thereby reducing the demand for short-lived, disposable alternatives.
Promoting Eco-Friendly Practices:
Restaurants, cafes, and hospitality establishments play a crucial role in shaping consumer behavior. By adopting heat and stain resistance coasters, these businesses can demonstrate their commitment to sustainability. This small yet significant change can inspire patrons to rethink their own choices and encourage them to seek out establishments that share their values.
Education and Awareness:
The use of heat and stain resistance coasters offers an opportunity for educational engagement. Establishments can inform customers about the benefits of these coasters, raising awareness about the impact of disposable products on the environment. This educational component can spark conversations about sustainable practices and prompt individuals to make more environmentally friendly choices in other aspects of their lives.
heat and stain resistance coasters are more than just functional accessories; they are catalysts for sustainable dining experiences. By reducing single-use waste, promoting durability, minimizing resource consumption, and supporting responsible consumption, these coasters contribute to a greener future. As the dining industry continues to evolve towards eco-consciousness, these coasters stand as symbols of progress and positive change, inviting consumers and establishments alike to embrace sustainability in their daily choices.