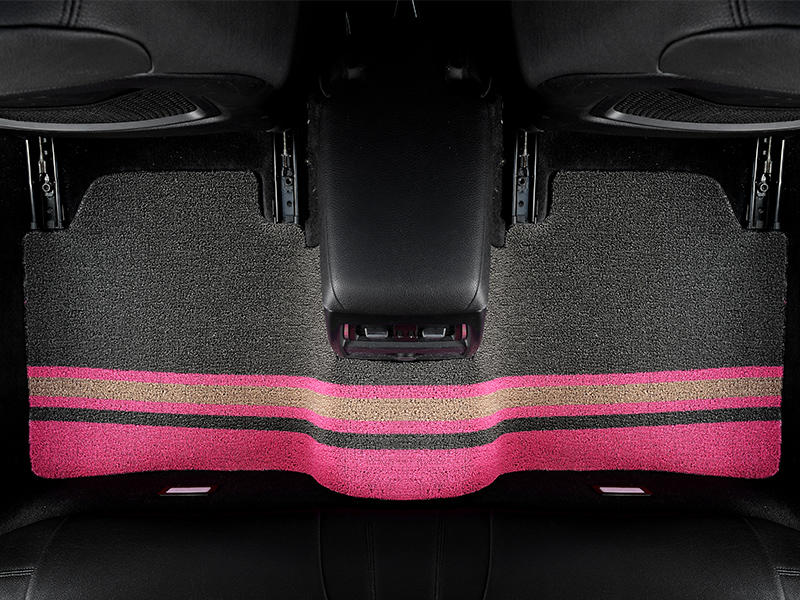 Car mat pink black stripes
| | |
| --- | --- |
| Location: | China |
| Business Type: | Manufacturer, Exporter |
| Brands: | OEM |
| Certificate: | BSCI |
| Model: | None |
| Payment and delivery terms: | T/T, 30% deposit, the balance sees the bill of lading COPY |
| Minimum order quantity: | Minimum order quantity: |
| Price: | Consulting Service |
| Packing details: | according to customer requirements |
| Delivery time: | 45 days |
Car mat pink black stripes knowledge expansion
How Does the Implementation of Pink and Black Striped Car Mats Reflect Shifting Trends in Automotive Interior Design and Consumer Preferences?
Fusion of Contrasting Elements
The implementation of pink and black striped car mats is a deliberate fusion of contrasting elements. The stark contrast between the boldness of black and the vibrancy of pink creates a visually dynamic and attention-grabbing effect. This contrast resonates with consumers who appreciate designs that challenge conventions and captivate the eye.
Expressive and Unconventional Aesthetics
Pink is a color often associated with expressiveness, playfulness, and individuality. By incorporating pink and black striped car mats, automakers are tapping into these associations to offer an unconventional and expressive interior design option. This design choice caters to consumers who value unique and statement-making aesthetics that reflect their personality.
Youthful Appeal and Trendy Vibes
Pink has a youthful and trendy connotation, making it a favored choice among younger consumers who seek vehicles that reflect their energetic and fashionable lifestyle. The introduction of pink and black striped car mats captures the spirit of youth and the desire to stand out, thus appealing to a demographic that values being on the cutting edge of style.
Visual Interest and Focal Points
The striped pattern introduces visual interest and serves as a natural focal point within the interior. The eyes are naturally drawn to patterns, and the pink and black stripes guide attention to the floor area. This design choice can enhance the perceived depth of the interior space and contribute to a more engaging driving environment.
Customization and Personalization
Personalization has become a defining aspect of consumer choices. The introduction of pink and black striped car mats offers a level of personalization that resonates with consumers seeking to create a vehicle that aligns with their unique style. This customization empowers drivers to make their vehicles an extension of themselves, fostering a stronger emotional connection.
Gender-Inclusive Design Approach
Automotive design is increasingly embracing a gender-inclusive approach. While pink has traditionally been associated with femininity, the use of pink and black stripes challenges this stereotype. This design choice acknowledges that both genders appreciate bold aesthetics, and it caters to a broader spectrum of consumer preferences.
Social Media-Friendly Design
In the age of social media, visually appealing design elements find their way into consumers' feeds and conversations. The distinctive pink and black striped car mats provide an Instagram-worthy visual that can create a buzz online. This social media-friendly design resonates with consumers who enjoy sharing their experiences with their digital communities.
the implementation of pink and black striped car mats showcases the automotive industry's responsiveness to changing trends and consumer preferences. Beyond its aesthetic impact, this design choice reflects the desire for expressiveness, personalization, and a departure from conventional norms. As the industry continues to innovate, elements like pink and black striped car mats underscore its commitment to offering vehicles that resonate with the diverse and evolving preferences of modern consumers.
How Does the Emergence of Pink and Black Striped Car Mats Reflect the Intersection of Fashion and Automotive Design Trends?
Fashion Forward Aesthetics
The fusion of pink and black stripes on car mats draws inspiration from fashion's bold and trendsetting palette. Pink, a color often associated with flair and individuality, is paired with the classic sophistication of black, creating a statement that mirrors fashion-forward choices seen on runways and in urban settings. This alignment with fashion aesthetics resonates with consumers who value vehicles as an extension of their personal style.
Transcending Gender Norms
The incorporation of pink and black stripes challenges traditional gender norms and stereotypes. Historically, pink has been associated with femininity; however, this design choice shows that color knows no gender boundaries. It reflects an inclusive approach that recognizes the diversity of consumer preferences and defies rigid categorizations.
Personalization and Self-Expression
One of the hallmarks of contemporary consumer preferences is the desire for personalization and self-expression. The use of pink and black striped car mats aligns with this trend by offering an avenue for drivers to showcase their unique tastes and preferences. This customization resonates with consumers who seek to curate an interior environment that reflects their individual identity.
Symbiosis of Lifestyle and Mobility
The world of fashion and the world of automobiles are intricately linked as reflections of lifestyle choices. Pink and black striped car mats bridge the gap between fashion and automotive design by offering a seamless integration of personal style into the driving experience. This design trend caters to consumers who view their vehicle as more than just a means of transportation but as an integral part of their lifestyle.
Social Media and Shareable Moments
The vibrancy of pink and black stripes lends itself to eye-catching and shareable moments on social media platforms. Just as fashion influencers share their outfits, drivers are sharing their unique car interiors. The bold and distinct appearance of pink and black striped car mats creates photo-worthy opportunities that align with the visual nature of social media engagement.
Elevated Perception and First Impressions
Fashion-forward design choices have the power to elevate the perceived value of a product. Pink and black striped car mats enhance the vehicle's overall visual appeal and create a lasting impression. This aligns with the idea of "dressing to impress," where the vehicle's interior becomes a canvas for making a stylish statement.
Innovative Collaboration Potential
The synergy between fashion and automotive design has the potential to pave the way for innovative collaborations between the two industries. We may witness partnerships between automotive brands and fashion designers, resulting in limited-edition vehicles that embrace these cross-industry design trends.
the emergence of pink and black striped car mats underscores the intrinsic connection between fashion and automotive design. This design choice reflects a shared appreciation for individuality, self-expression, and aesthetics that transcend traditional norms. As the automotive industry evolves, elements like pink and black striped car mats highlight its ability to draw inspiration from diverse sources and create vehicles that not only perform but also resonate with the ever-evolving preferences of consumers seeking a harmonious fusion of style and function.