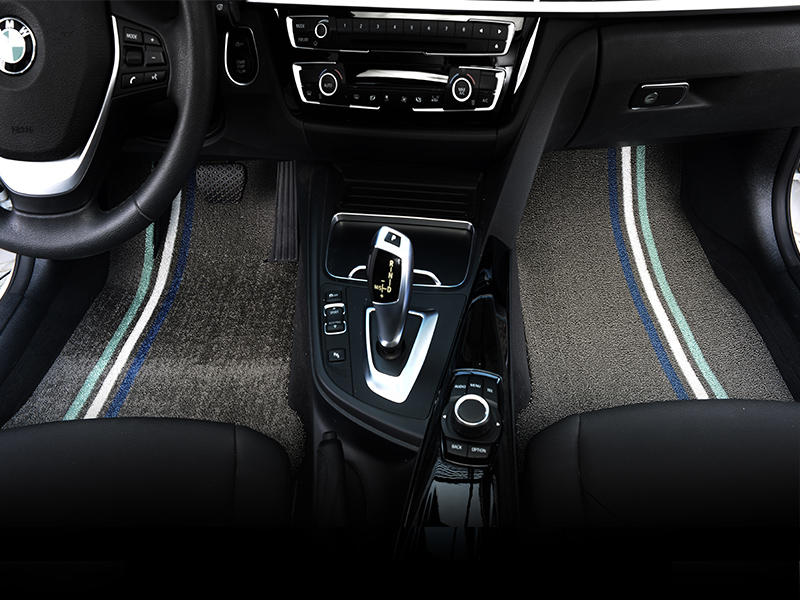 Car mat blue edge on gray
| | |
| --- | --- |
| Location: | China |
| Business Type: | Manufacturer, Exporter |
| Brands: | OEM |
| Certificate: | BSCI |
| Model: | None |
| Payment and delivery terms: | T/T, 30% deposit, the balance sees the bill of lading COPY |
| Minimum order quantity: | Minimum order quantity: |
| Price: | Consulting Service |
| Packing details: | according to customer requirements |
| Delivery time: | 45 days |
Car mat blue edge on gray knowledge expansion
How does the implementation of blue-edged car mats on gray interiors impact the automotive industry in terms of aesthetics, functionality, and market demand?
Aesthetics:
The integration of blue-edged car mats within gray interiors marks a departure from the traditional monochromatic design approach. By introducing a contrasting color, manufacturers aim to imbue vehicles with a touch of sophistication and visual appeal. The interplay between blue and gray creates a modern, dynamic ambiance that resonates with a diverse range of consumers. This aesthetic enhancement is particularly evident in luxury and premium vehicle segments, where a sense of uniqueness and opulence is highly valued. The combination of these two colors not only elevates the overall interior design but also allows for customization, enabling buyers to personalize their vehicles to align with their style preferences.
Functionality:
Beyond aesthetics, the integration of blue-edged car mats also raises questions about functionality. Car mats serve a critical purpose in protecting vehicle interiors from dirt, debris, and moisture. The blue edge serves as an aesthetic marker, but it could also offer functional benefits. For instance, the blue border could potentially indicate the boundaries of the mat, helping drivers position their feet correctly while entering or exiting the vehicle. Furthermore, manufacturers could incorporate technology that alerts drivers when the mats are misaligned, thereby ensuring their effective functionality in maintaining interior cleanliness.
Market Demand:
The introduction of blue-edged car mats onto gray interiors has the potential to reshape market demand within the automotive industry. Consumers today seek more than just transportation; they are looking for experiences that resonate with their lifestyles and personalities. This trend taps into that desire by offering a unique visual element that distinguishes vehicles in a saturated market. As a result, automakers may experience heightened demand for vehicles equipped with this distinctive feature, especially among younger generations that value self-expression and individuality.
the success of this trend also hinges on manufacturers' ability to strike a balance between innovation and practicality. Aesthetic enhancements must complement the overall design language of the vehicle and not compromise safety or functionality. Additionally, while a trend may gain rapid popularity, its longevity depends on how well it weathers the test of time and evolving consumer preferences.
the integration of blue-edged car mats within gray interiors introduces a subtle yet impactful change to the automotive industry. This trend marries aesthetics with functionality, catering to consumers' desire for personalization and distinctive design. The success of this trend will be determined by how well it resonates with consumers and whether it aligns with broader shifts in automotive design philosophy. As the industry continues to evolve, the journey towards innovation and differentiation remains a driving force, and trends like these exemplify the dynamic nature of automotive design.
What Impact Does the Implementation of Blue-Edged Car Mats on Gray Interiors Have in the Automotive Industry?
Aesthetic Appeal and Brand Differentiation
The implementation of blue-edged car mats on gray interiors is primarily driven by its aesthetic appeal. Gray interiors offer a neutral canvas that can be complemented by a variety of colors, with blue being particularly striking due to its contrast and association with calmness and technology. Car manufacturers are leveraging this visual contrast to enhance the overall appeal of their vehicles and differentiate their brand from competitors. The strategic use of blue-edged mats can serve as a subtle yet impactful branding tool, influencing consumer perception and potentially leading to increased brand loyalty.
Consumer Preferences and Customization
The choice of car interior design is ultimately influenced by consumer preferences. The combination of blue-edged mats on gray interiors caters to a specific consumer segment that seeks a balance between sophistication and vibrancy. As vehicles become an extension of personal style, car manufacturers are recognizing the importance of offering customization options that resonate with individual tastes. The introduction of such design elements reflects an industry-wide shift towards accommodating consumer desire for unique and personalized driving experiences.
Psychological Influence on Driving Experience
Color psychology plays a significant role in influencing emotions and perceptions. The integration of blue, often associated with trust and tranquility, with gray, symbolizing practicality and balance, could potentially create a harmonious atmosphere within the vehicle. This combination may contribute to a more relaxed and enjoyable driving experience, especially during long journeys. Manufacturers are therefore delving into the realm of psychological impact, exploring how such color combinations can positively affect driver mood, comfort, and overall satisfaction.
Technological Perception and Innovation
Blue, in the context of technology, is frequently associated with innovation and modernity. By pairing blue-edged mats with gray interiors, automotive manufacturers may be aiming to align their vehicles with technological advancements. This subtle but deliberate design choice can subconsciously reinforce the perception of the car's advanced features and cutting-edge capabilities. As the automotive industry continues to evolve with the integration of smart technologies, the strategic use of color can significantly contribute to shaping consumer perceptions of a vehicle's technological prowess.
Supply Chain and Material Selection
While the visual impact of blue-edged mats is crucial, it also raises questions about the supply chain and material selection. Manufacturers need to ensure that the chosen materials for these mats align with industry standards for durability, ease of cleaning, and safety. The selection of materials that not only meet these functional requirements but also contribute to the desired aesthetic can pose challenges in terms of production, cost, and sustainability.
the implementation of blue-edged car mats on gray interiors within the automotive industry is a multifaceted design choice that intersects aesthetics, psychology, technology, and consumer preferences. By strategically combining these elements, manufacturers are seeking to create a unique identity for their vehicles, enhance the driving experience, and cater to an increasingly individualized market. As the industry continues to evolve, it will be intriguing to observe how such design trends influence broader automotive design strategies and consumer choices.